Try This Easy Mahi Mahi Fish Recipe!
Ever considered trying out a yummy Mahi Mahi recipe at home? Well, we're saying do it today! And why wouldn't you, considering you get the freshest catches right here in Mumbai and Pune! Known to have amazing quantities of vitamins, amino acids and fish oil, this powerhouse seafood is known to reduce the risk of cardiovascular diseases and cancer, and also keep inflammation in control. 
Consumed widely in South America, North America and Africa, let us tell you that it is also easily available in India, caught from the Indian Ocean.
Here is a delectable, tasty baked recipe that you can try!
WHAT YOU NEED
For the Lemon Garlic Mixture:
2 TB salted butter, softened to room temp
1 TB freshly chopped coriander
2 TB garlic cloves, minced
1/8 tsp salt
1/4 tsp freshly ground black pepper
1 TB juice from fresh lemon
1TB grated lemon zest
For the Fish:
2 TB olive oil
4 (1-inch thick each) mahi-mahi fillets, 150 gms each
 salt and freshly ground black pepper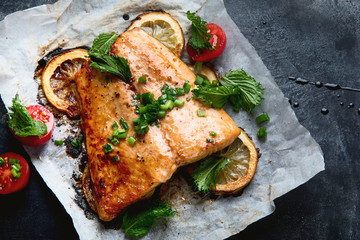 HOW TO GET THERE
In a small bowl, combine all Lemon Garlic Mixture ingredients and stir to fully combine. Set aside.
Use paper towels to pat-dry all excess moisture from the fish fillets. This step is important, so be sure to pat off as much moisture as you can.
Season fillets evenly with salt and pepper. 
Heat oil in a non stick pan.  Once hot, gently place the fish on the pan and cook till brown - approximately 3 minutes.  Do not move the fish around. Carefully flip fish fillets over to the other side, and cook for a further 2 minutes or just until the top is golden and center is just cooked through. Take care not to overcook.
Add some of the Lemon garlic butter to the pan just before finishing and gently baste the fish with this bubbling lemon buttery juice.
Open the Pescafresh App, order your meal for tomorrow.  Enjoy your meal secure in the knowledge that you can repeat this experience again tomorrow!