How to Make The Perfect Fried Egg!
 The Fried Pesca NAE Egg
We all know how to fry an egg and indeed most of us throw our egg on a hot-ish pan and hope for the best – most of us little realizing, or caring about the beauty of a well fried egg. However, if like me, you care deeply about the rich taste of a yolk, standing proud on a bed of perfectly cooked egg white – then read on.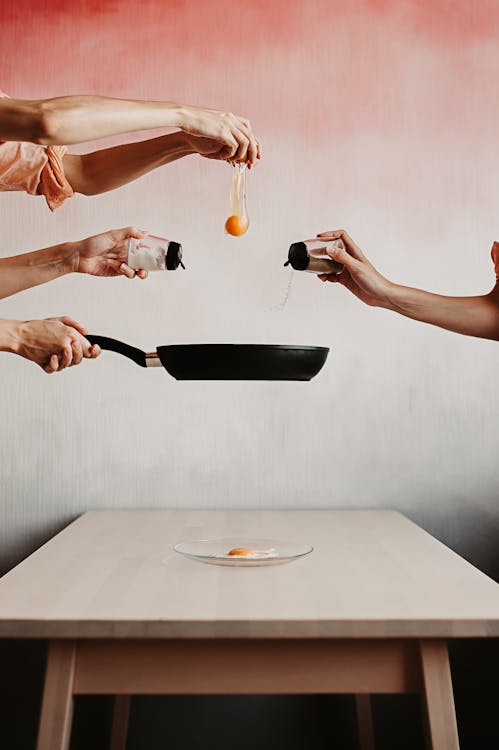 Globally, most top chefs will judge a young chef by their ability to either cook a perfect fried egg, or scrambled eggs. For, it is cooking these two types of eggs, that chefs can demonstrate their understanding of the produce, of cooking temperatures, of cooking mediums and of cooking times in a quick test.
 Of course there are many different ways of cooking a perfect fried egg, with many variations in heat, fat, time and combinations thereof.
But first – let's look at the perfect egg !
 As ever, nothing beats a #freerange  #freshegg raised humanely and fed with a diet free of colourings and antibiotics and various other additives. Take your Farm fresh #PescaNAE Egg out of the fridge , and let it come to room temperature before cooking – if you start with a cold egg, then you're more likely to end up overcooking the yolk trying to get the white to set. Very fresh eggs are best for frying, because the stronger proteins will give you a neater shape with the white holding its integrity and not running in a watery mess around the pan.
The cooking medium
Frying obviously involves adding oil – and while most western recipes will focus on butter plus oil or olive oil, the poor westerners do not have the pleasure of having #DesiGhee lying about. Ghee is the perfect medium for cooking an egg in, it imparts that rich nutty buttery flavor that all recipes keep looking for with butter, with none of the worries of burning the butter.
 Also, popular is olive oil, which adds a fruity peppery tang to the egg – both lend their distinctive flavours to the egg. So, it depends what your personal preferences are– I'd always default to Ghee, because I think the nuttiness is a better complement for the yolk.
 Neutral sunflower oil is an option for those who still worry about using Ghee.
The cooking temperature
 It takes a confident cook to cook on high heat, but really controlling the heat depends on the end result desired.
 For a crispy brown frilly edge; the white perfectly set and the and the yolk soft and runny, start on high heat for 30 seconds and then turn the heat down to medium for another minute.
 Another school of thought calls for medium-high heat, tilting the pan and then spooning the excess oil to baste the egg throughout cooking. This technique needs a little bit of practice, but has the advantage of giving you more control, on when to stop cooking the whites. When using Ghee or butter this technique imparts a distinctive, much more flavourful taste, given that direct heat from the oil is used for cooking each part.
 If, however, you prefer an almost white, egg white and no crispy or bubbly bits – then the trick is to cook them gently over a medium low heat.  Grab a good quality non-stick pan and crack the eggs while the pan is still cool.  Allow the eggs to heat with the pan, turning the heat right down if the egg starts to spit. The end result – soft and silky - can be worth the time it takes to cook.
 A slight variation on the above theme adds a knob of butter to towards the end, bring the butter to a foaming consistency and then cover the pan for the duration of the cooking to help speed up the process, which results in an almost perfectly cooked egg – a soft, but firm white, and a gorgeously runny yolk.
 My own favorite method (perfected as a student, while working one winter in McDonald's in London) allows me to vary the heat depending on whether I am in the mood for crispy edges or silky white bases but always includes adding a teaspoon of water to the pan to help steam the top of the egg. This allows the yolk to warm through and the whites to set faster.
 Many years ago, while on a work trip, back to London, I was introduced to one other style of cooking a fried egg, at the Britannia Hotel near Canary wharf. I have never again seen this technique used elsewhere and admit that I have been too scared to try it myself. It involved deep frying the eggs in bacon fat for what was no doubt the crispiest, most flavorful fried eggs I have ever eaten. Those brave souls who do try this at home are requested to add your photos here.
 By Saurabh Nakra
An egg-lover
 Image courtesy - Pexels.com
https://pescafresh.com/products/eggs-nae?_pos=1&_sid=4a01db9a0&_ss=r