Five Indian Fish You Should Definitely Cook at Home!
Hoping for great eyes, good hair, attractive nails? They say eat fish. A healthy heart, increase in omega 3 fatty acids, improving mental health? They say eat fish!
The American Heart Association recommends eating the same at least twice a week. But do you need to go to America to do the same? No! India has some of the best species for consumption and here are five easily available varieties for the same!
Now if you've been our audience in PescaLive, the daily online live fresh seafood market streamed on our app, you would have known all the fish benefits by heart by now. But anyway, for the uninitiated, here is what you can buy the next time you decide to cook fish!
Rohu-Katla (Catla) – Two different fish, names generally taken together. Famous in Bengali households, the fish should ideally be bought if its source is Andhra Pradesh ( Bheemavaram and Avikeddu). Pro-tip – always ask your seller where the fish comes from. Back to the benefits now, Rohu can help prevent cold and cough due to its large quantity of Vitamin C. Rohu is a no-fat high protein fish that makes it an excellent food for gym-goers. Having said this, it is also completely safe for children and older people to consume. Talking about Kalta/ Catla, it has low fat and low cholesterol levels. Apart from being a great source of vitamins and minerals, it is also known to keep skin issue like psoriasis at bay
Surmai – Known as the seer fish, it is one of the most popular fish available in India. It is a great source of lean protein and is known to reduce the risk of cardiovascular diseases. Consuming this may also prevent cancer in people. High in omega 3 fatty acids, eating this variant can also improve eyesight.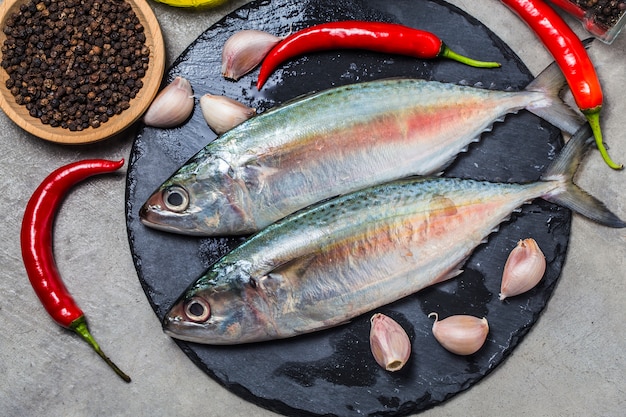 Mackerel/ Bangda Fish – This deepwater sea fish has more benefits of consumption than one can count of their fingers. It helps lower blood pressure, enhances eyesight and reduces cholesterol. Looking at shedding some extra kgs? Look nowhere else!
Pomfret – Small, medium, large, xl, jumbo – you name it and this fish comes in all sizes. High on calcium, Vitamin A, B & B-12, the Pomfret, also known as Paplet in Maharashtra can be a superb addition for those with thyroid, for the fish has a good amount of iodine content.
Rawas – Known to be a favorite of chefs, the Rawas, also known as the Indian Salmon is full of essential amino acids. These aid in maintaining metabolism that in-turn makes weight-loss easier. Interestingly, Rawas is also known be a great choice for pregnant women. It is believed that the fish has the nutrient value to enhance the academic capabilities of the baby in the womb.
At PescaLive, we bring the freshest catches to our patrons and customers every day, live on our app. Taking the concept of 'what you see is what you get', customers can buy the freshest seafood in real time. Catches that arrive at the Pescafresh unit at 5 am in the morning. Come rain or shine, seafood is safe to eat 365 days a year, as long as you know how to buy it and cook it. And for this, there is no better place than Pescafresh.